Best SNES Emulators for P.C.: Windows 7/8/8.1/10 & Mac in 2023
Are you looking for SNES Emulators for P.C.? Are you a big-time lover of video games? If you are, then you might have heard the term SNES. SNES stands for Super Nintendo Entertainment System. Alternatively, Super Comboy is one of the most famous and most played gaming consoles. SNES, as 16-bit gaming consoles, were hugely used in the '90s to play games with great fun.
SNES Emulators for P.C. is regarded as the best 16-bit console. It makes good sense to emulate SNES on P.C. Nintendo released a new SNES classic version in 2017 with limited availability. Super Nintendo Emulators for P.C. [Windows 7/8/8.1/10] allows you to play the games by SNES with controller support. These Emulators for P.C. will possibly bring back the memories of playing our favorite games in SNES.
I will share the six best Super Nintendo Emulators for Windows in this article. You can easily use these SNES emulators to play games on your P.C. or laptop.
Best SNES Emulators for PC, Mac, and Android
RetroArch
Kicking off the list is RetroArch, a great SNES emulator that comes with cross-platform support, allowing users to enjoy SNES games on various platforms. RetroArch is often described as a front-end for emulators which runs programs converted into dynamic libraries called Liberto cores. Essentially, the software provides a polished interface for the user to play a wide range of classic games, making it relatively easy to use. The emulator includes support for several controllers, offering advanced features like shaders, netplay, and rewinding.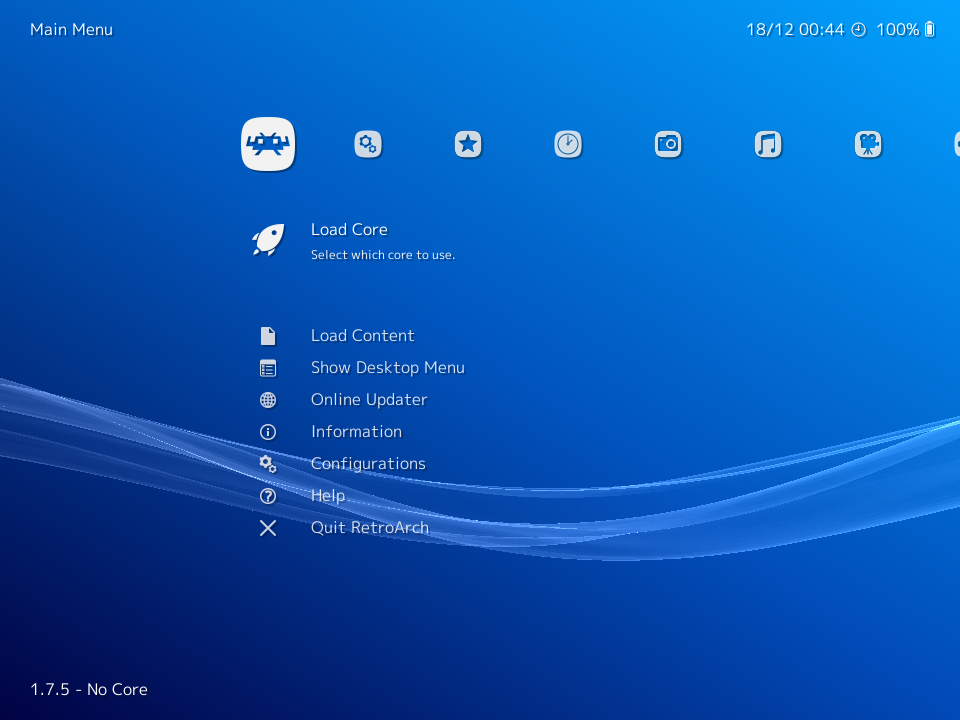 On top of that, RetroArch can natively record and stream your gameplay to popular streaming platforms like Twitch. Tv, and YouTube. Since the emulator uses different Liberto cores to run games, it includes support for classic SNES games and allows users to play many other games released on platforms like the Nintendo Wii, GameCube, Game Boy, 3DS, Sega Dreamcast, etc. This makes RetroArch the best emulator out there, as it doesn't limit users to games released for a particular console.
Supported platforms: Windows, macOS, Linux, Android, Web
Price: Free
higan
Taking the second spot is higan, another great emulator that supports multiple consoles, including SNES. higan (formerly known as bsnes) emulates the original hardware as accurately as possible, offering a gameplay experience you wouldn't find with any other emulator. However, because of how the emulation works, higan is a fairly demanding emulator that won't work well on low-end or older devices.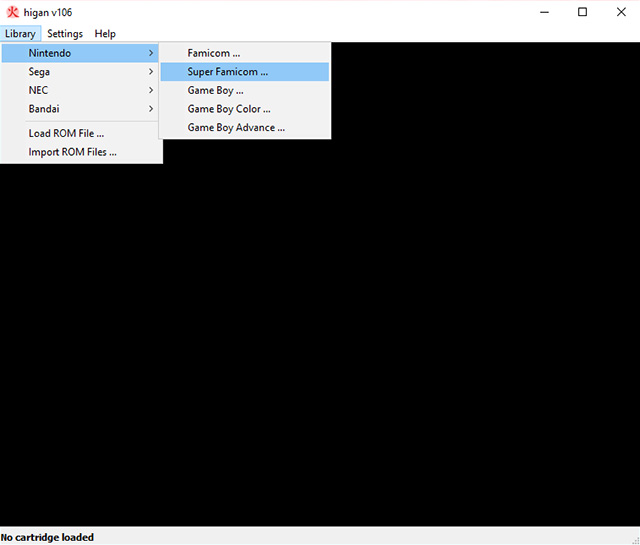 On the bright side, the emulator can run every commercial SNES title ever released, making it the perfect choice if SNES games are all you care about. Currently, higan includes support for 12 systems, including Nintendo Famicom, Nintendo Super Famicom, Game Boy, Game Boy Color, Game Boy Advance, Sega Master System, Sega Game Gear, Sega Mega Drive, N.E.C. P.C. Engine, N.E.C. SuperGrafx, Bandai WonderSwan, and Bandai WonderSwan Color.
Supported platforms: Windows, macOS, Linux
Price: Free
SNES9x
Next up is SNES 9x, an easy-to-use emulator that doesn't require significant adjustment and allows users to launch games immediately after the first extraction. The emulator can run all SNES titles virtually without noticeable issues and works pretty well on relatively dated hardware.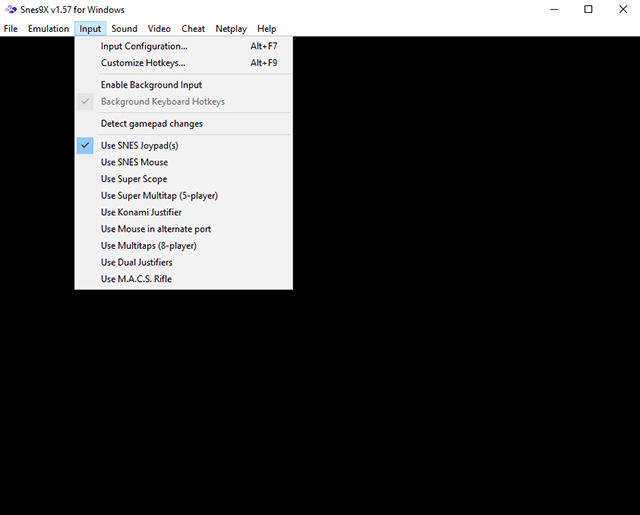 SNES9x is one of the best SNES emulators out there for low-end hardware. It offers a great selection of features, including Output Image Processing for better graphics, save states to save games in the exact spot you want them to save, fast forward to speed up games, and a recording feature that allows you to capture .avi movies of your gameplay.
Supported platforms: Windows, macOS, Linux
Price: Free
BizHawk
If you're a fan of speed runs and want to complete a game in the fastest time possible, then you should look at BizHawk. The emulator has been designed explicitly around Tool Assisted Speedruns (T.A.S.) production, and it works equally well for casual gaming.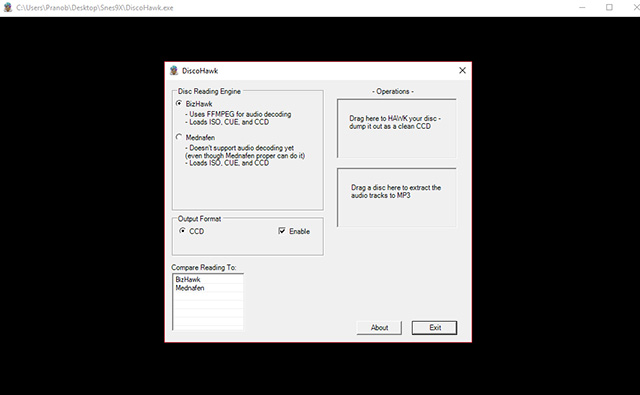 The emulator includes support for games released on multiple platforms, including N.E.S., SNES, Nintendo 64, Game Boy, Game Boy Color, Sega Genesis, Sega Saturn, PlayStation, Atari 2600, etc., which means that you'll be able to enjoy a lot more games with this emulator, than with any other.
Supported platforms: Windows
Price: Free
ZSNES
ZSNES is another great Super Nintendo emulator you can use to run the most popular SNES games with relative ease. Even though the emulator's development stopped in 2007, it's still quite capable and easy to use, which is why it's still quite popular among emulation enthusiasts.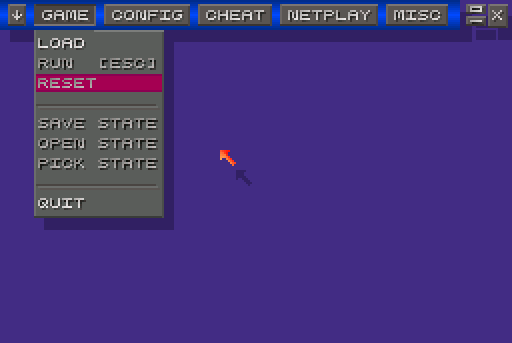 Z.S.N.E.S. features a decent selection of features, including filters to improve video output, save states support, and a great recently played games list that keeps track of 10 of the most recent games you've played on the emulator. It's worth noting that Z.S.N.E.S. has a known security exploit, and a R.O.M. can redirect you to a webpage and install unwanted apps on your system. However, downloading R.O.M.s from trusted sources can easily avoid the exploit.
Supported platforms: Windows, Linux
Price: Free
OpenEmu
If you're on a Mac looking for a multi-system emulator that works well, then you should look at OpenEMU. Development on OpenEMU started back in 2007, and it was initially just a port for the NEX/Famicom emulator Nestopia. The emulator is a lot like RetroArch, because it's more of a front-end for many emulators, requiring you to download additional cores to play games.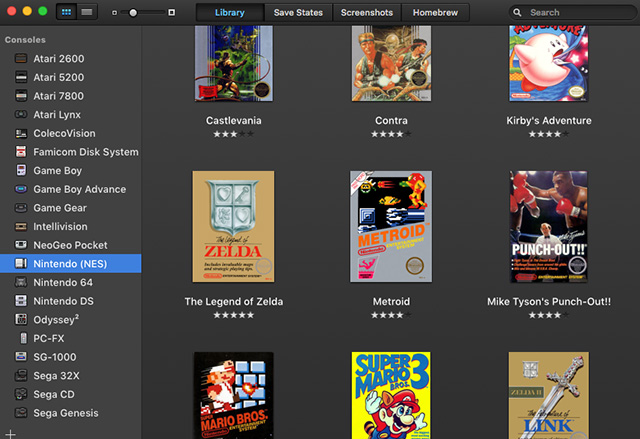 It's relatively easy to use and has a clean U.I. that complements the overall macOS aesthetic. The emulator features a couple of different filters to improve visual output. It also supports multiple input methods, so you can easily use a retro controller with your system for a much more authentic experience. Another great thing about OpenEmu is that it isn't too resource-extensive, so you can efficiently run it on older macOS devices with low-end specifications.
Supported platforms: macOS
Price: Free
Nestopia UE
Nestopia is a high-accuracy N.E.S. emulator capable of playing most N.E.S. games without trouble and includes features like texture scaling and net play. However, in its original form, it's more or less dead as its developers halted the development back in 2008, which is where Nestopia UE comes in. Nestopia UE (Undead Edition) is a RetroArch core emulator if you don't want to go through the hassle of setting up RetroArch.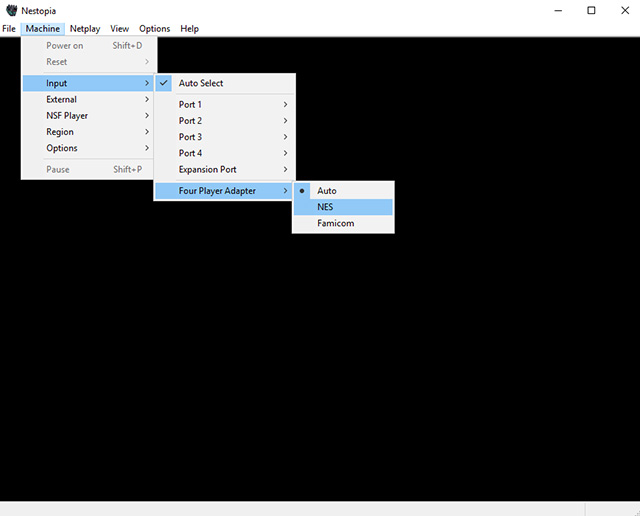 The emulator has cool features like game-specific custom palettes, cheat support, and Famicom mic support, making it an excellent option for emulation fans. As you'd expect, Nestopia UE is relatively simple to set up and has a user-friendly interface that allows you to install and run games in no time. The emulator also comes with VSync support, but prepare for input lag if you use the feature.
Supported platforms: Windows, macOS, Linux
Price: Free
SNES9x EX+
If you're looking for a great SNES emulator for your Android smartphone, you should check out SNES9x EX+ – the Android port for SNES9x. The emulator includes all the basic features you'd expect from any SNES emulator, including save/load states, on-screen controls, various file types, and gamepad support.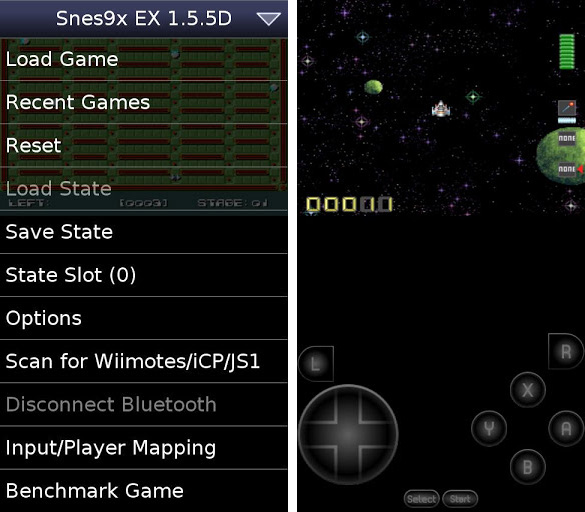 Granted, the emulator looks a bit old school, but since it works pretty well, there's no point complaining about the U.I. What's great is that unlike some other SNES emulators for Android, SNES9x EX+ is free and ad-free with no in-app purchases. Remember that the emulator will work well only on devices with a processor clocked at 1GHz or more.
Supported platforms: Android
Price: Free
NES.emu
In case SNES9x EX+'s design bothers you, you can also check out NES.emu, another great N.E.S. emulator for Android that runs quite well on almost all Android devices with at least a 1GHz processor. The emulator includes many cool features, including backup and save state support, cheat support, on-screen multi-touch controls, and much more.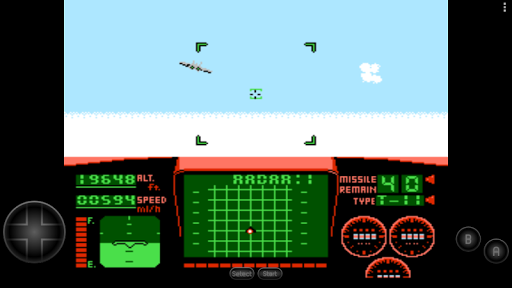 On top of that, NES.emu also includes Bluetooth/USB gamepad and keyboard support, which means that you'll be able to connect a retro-style controller to your Android device and enjoy an authentic N.E.S. experience on the go. The emulator also allows you to play N.E.S. games in landscape orientation, which sets it apart from SNES9x EX+, which only supports portrait orientation.
Supported platforms: Android
Price: $3.99
 John NESS
John NESS is the successor of the popular SNES emulator, John SNES. It was pulled down from the Play Store due to copyright infringement issues. However,  the developer has released a new emulator with support for all the older games and, of course, the latest additions. Now, John Ness is one of the best SNES emulators on Android after perhaps SNES9x EX+. The U.I. of the emulator is quite good, making the gameplay very comfortable. The developer states that the app is using the original SNES engine, which means it will have a great time playing the classic games with a focus on accuracy over performance. As for the features, you have cheats, high-quality rendering, zipped file support, customizable keys, and more. Not to mention, the emulator also supports Bluetooth/M.O.G.A. controllers, which is fantastic. John NESS is a capable SNES emulator on Android, and you should try it.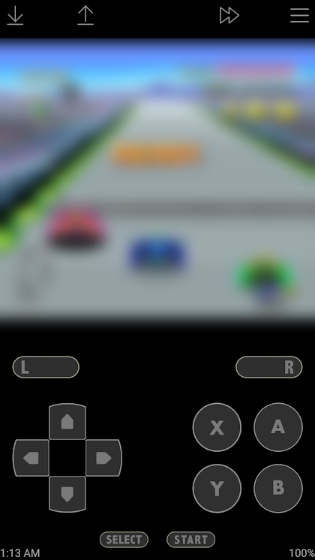 Supported platforms: Android
Price: Free
BSNES
BSNES was one of the oldest SNES emulators but was abandoned after some time. Many emulators are based on B.S.N.E.S., and one of them– higan– is also on this list. However, the B.S.N.E.S. emulator is live again as the developer has taken it upon himself to revive the project. The main goal of B.S.N.E.S. is to offer near-perfect emulation accuracy with good performance. And since higan is pretty complex for general users, B.S.N.E.S. is intended to make it easier to play classic Nintendo games on its emulator. There have been a total of 3 releases, but the H.D. build the best for high-quality graphics rendering. If you are looking for an accurate SNES emulator for Windows or Linux, then B.S.N.E.S. is the right pick.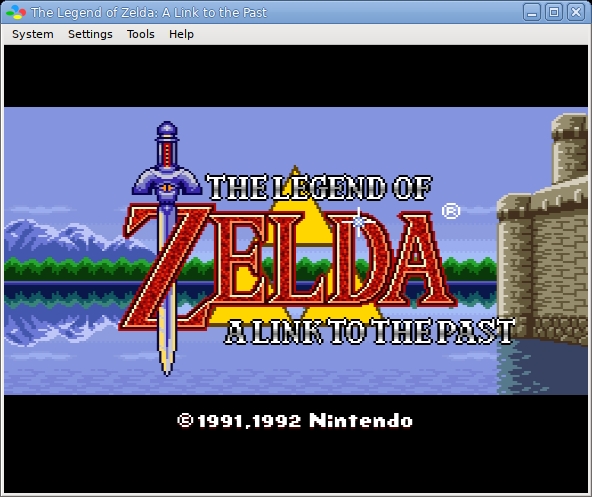 Supported platforms: Windows and Linux
Price: Free
The Mega S.N.E.S. Rock Retro
The Mega S.N.E.S. Rock Retro is a relatively new emulator, but it has quickly gained popularity among the Android community. The best part about this emulator is that it's fast and has wider game compatibility. Further, you can play SNES games on Full HD Graphics setting, which is excellent. The emulator has a long list of features like controller customization, support for popular cheat codes, compatibility with Bluetooth controllers, and more. There is also support for mice, but it's limited to a few selected games only. If you are looking for a new SNES emulator on Android, then The Mega S.N.E.S. Rock Retro is the perfect pick.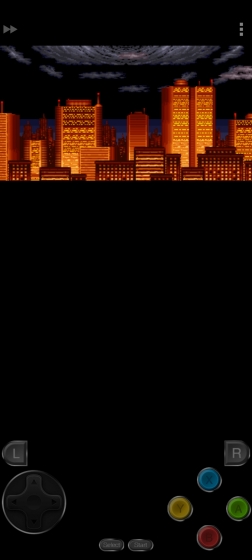 Supported platforms: Android
Price: Free
B.S.N.E.S. Emulator for P.C.
Many emulators offer audio emulation and smooth graphics. In case, SNES is a 16-bit gaming console and provides pretty nifty features. Keeping this in mind, I had to sort this list based on the traits these emulators offer. B.S.N.E.S. is listed as first in this list of best SNES Emulators for P.C. because of its ease of use.
B.S.N.E.S. provides you with more than just ease of use. It has a lot of features which all together bring it to the first position. B.S.N.E.S. Emulator for P.C. can emulate multiple gaming consoles. It emulates gaming consoles such as Super Famicom (SNES), Famicom (N.E.S.), Game Boy, and Game Boy Advance.
It also features an external game controller, joystick support, and even a GamePad. It offers Speedy and Fast emulation. The only con of this B.S.N.E.S. Emulator is that it supports .sfc R.O.M.S. only. Yet, It remains on the top of the list.
SNES GT Emulator for P.C.
Well, the reason SNES GT is also on the top of the list is that it doesn't have the con that B.S.N.E.S. does. SNES GT provides more different features for its users. It has excellent video and audio emulation for SNES games.
SNES GT doesn't need to rely on the dependency files, which makes it better than the other emulators. In addition, it offers some more salient and exclusive features for P.C. or Laptops. It allows users to save game status and load games while playing an adventure. It also provides Gamepad (Multi-tap) and Controller support.
Also, SNES GT provides Multiplayer slots and multiplayer game support to enjoy the games with your friends. It would help if you didn't think twice before downloading this great SNES Emulator for P.C.
SNES9X Emulator for PC
A better emulator than the B.S.N.E.S. is SNES9X, based on the game emulation and features. But, it is lower on the list than B.S.N.E.S. because its dependency on Direct X. SNES9X requires the availability of Direct X in our system to let it work.
Nonetheless, the availability of Direct X offers us more salient and unique features. It supports Game Cheats in the system. It allows its users to save the game at any time and reload the saves in the game. Also, it provides external gamepad support.
Z.S.N.E.S. Emulator
Another Emulator in this article of best SNES Emulators for Windows is the Z.S.N.E.S. Emulator. Z.S.N.E.S. is one of the oldest SNES emulators available in gaming history. Z.N.E.S. tends to be on this list as it provides a medium-level user interface. It's down here due to the unavailability of the mouse pad in U.I.
Perhaps, Z.S.N.E.S. offers you all the best features to enjoy playing games to their fullest. It provides emulation support for each format of SNES games, such as .sfc and .svc. .zip, etc. Along with this, it features speedy gameplay.
SNEeSeW Emulator for P.C.
The SNEeSeW Emulator for P.C. has a different and complex kind of name. Along with the name, it has an even more complex user interface. But, this emulator provides the most numerous customizations ever. This feature allows you to play SNES games right from the Video buffer, RAM size, etc.
You can play almost every game using SNEeSeW Emulator, which might not work in the other emulators. This is made possible by the viable customization options available in this emulator. But, the only thing that takes time to get used to is the user interface of SNEeseW. Apart from it, this is one of the best SNES emulators you could use on your P.C.
RetroArch Emulator for P.C.
The last emulator on our list is the RetroArch emulator, which is built professionally. It offers multiple files of various formats support, G.G.P.O.O. netplay, real-time rewinding, etc. Also, it provides features like remote networked sound support and multi-pass shaders. RetroArch works smoothly and simply with the Linux system, but it's the best on P.C.
P.C. is on this list because it is compatible with almost over O.S. available. AO.S.rt from this, you can change controls accordingly. You can also save and load your game state anytime while playing the game. It offers the Netplay feature, where you can play games online with friends. You don't need them to come over or stay with them; you can meet up online and play together using this feature.
RetroArch Emulator for P.C. is free to download. So, you P.C.n give it a try.
So, these are the best SNES Emulators for P.C., which works in all versions of Windows. P.C.u can download one of these emulators and refresh your memories of playing video games back then. Comment below if you find this article helpful to you.
Enjoy Your Favorite SNES Games With These SNES Emulators
That rounds up our list of the best SNES emulators for PC, Mac, and Android. If you're wondering why we haven't included any emulators for iOS, it's because there aren't any official ones on the App Store. Apple is known to be a little too controlling regarding the type of apps that go up on the App Store, which has hurt any emulator development for the platform. So, iOS users set aside, which of these emulators do you plan to try out first? What games are you looking to play with these emulators? Let us know in the comments section below.
F.A.Q.
What is SNES Emulator for P.C.?
A SNES emulator allows you to play SNES games on your P.C. F.A.Q.uses software to emulate a P.C.per Nintendo.
Which are the Best SNES Emulators for P.C.?
P.CNES Emulator for P.C., SNES GT Emulator for P.C., SNES9X Emulator for P.C., Z.S.N.E.S. Emulator, P.C.EeB.S.N.E.S.mulator for PCP.C.and RetroArch Emulator P.C.r PC are considered soP.C. oZ.S.N.E.S. best emulators.
Is SNES EmulatP.C.s Free?
Most SNES emulators are freeP.C.However, there are some that you will either have to pay a subscription for or in-app purchases are available.
Will SNESEmulators Slow Down My Computer?
Emulators use up a lot of power within your computer. If you are running an emulator, your computer may seem slower than average.
Author's Opinion regarding the Best Snes Emulator For P.C.
The Best Snes Emulator For P.C. has very robust features while considering the security purpose. PriorityP.C.s very high. No VPN or RDP iP.C.required for the said purpose. In some cases, the emulator also works fine, and middleware software also has an essential role in smooth functioning. Therefore, the author recommended the Best Snes Emulator For P.C. for your personal use and has no issue regarding the installation on P.C. (Windows and Mac). I hope youP.C.lso use it without any trouble. If you have any problems, please mention P.C.hem in the email, and we will provide you with proper solutions. Please like and share with others. We made a lot of effort while collecting the software for your download.
Please follow and like us: