Best Bluetooth Dongle
Bluetooth USB Dongle For PC has become much more popular in the modern day and age. Especially when you consider that many entry-level motherboards are usually without Bluetooth connectivity.
While laptops are usually equipped with this technology, the same cannot be said for full-sized desktop computers. In situations like this, it is best to have a Bluetooth dongle. These dongles are always plugged and play, so you do not need to worry about complicated setups.
Once you connect the dongle, your desktop computer will have access to all the Bluetooth features you may need to transfer files or even connect your wireless peripherals that work over Bluetooth. The market is pretty saturated with these dongles, which often confuses the person.
The best way to deal with this situation is to ensure you go through the list of the best Bluetooth dongles you can find and buy the one you prefer. Sure, the options are limitless, but to save you from any possible confusion, I am going to list down the best Bluetooth dongles that are available in the market.
These are from renowned brands and offer the latest standards, so you will not have to worry about buying something sub-standard. So, let us not waste more time beating around the bus and get to the point, shall we?
Top 5 Best Bluetooth Adapter For PC 2022
1. Avantree Bluetooth USB 
The first Bluetooth dongle on my list is the Avantree Bluetooth USB Music & Talk Adapter, and it is made for many purposes than just having a Bluetooth connection. As per the official page, the dongle will work on a PS4 and a computer. You can transmit data or audio without any lag or latency.
During my testing, I concluded that the Bluetooth dongle is actually among the best I've used. It works without a driver, and there is no delay whatsoever during use either. The device also supports the aptX codec, so I can assure you that you will not be facing any issues regarding the audio not being up to par.
Aside from the excellent performance and a wide range of supported devices, the only real complaint I have is, of course, the color of the device. For some reason, the lime green color is not what I would look for in a Bluetooth dongle. Luckily, it's nothing a simple carbon fiber mod can't fix.
Pros
Excellent performance.
Supports many devices.
Uses aptX for better quality.
Cons
I am slightly conflicted about the lime-green color of the device.
2. Plugable USB Bluetooth 4.0 
If you are looking for a minimalistic device that can easily hide in your pocket or your backpack, you are in the right spot. The Plugable USB Bluetooth 4.0 is among the smallest Bluetooth dongles available in the market. It is so small that you can plug it in and forget about it.
With that said, I had my concerns when I realized that the dongle was so small that it might affect the overall range, but luckily, that was not the issue. USB 4.0 support is present along with all the technologies that come with it.
Regarding the performance, I have zero complaints because it is plug-and-play and works on every single device you will run it on. The only minor subjective issue is that there should have been a port for attaching a lanyard because the dongle is small and might get lost.
Other than that, the Plugable USB Bluetooth 4.0 is perfect for anyone who wants a great device that will solve all the issues related to the lack of Bluetooth connectivity in some devices.
Pros
Compact and easy to carry around.
Blends in with the computer.
Plug and play.
Bluetooth 4.0
Cons
No slit to attach a lanyard.
3. ASUS USB Adapter
Adding this adapter here was a no-brainer. I trust Asus when it comes to computer hardware, so I knew from the get-go that this product would not disappoint. I was right all along; the dongle performs, as Asus wants it to perform.
Delivering on all fronts and being friendly in the pockets, it is the dongle I would carry with me whenever I need something reliable that works on every device I want it to work with.
I do not think I can complain about the device as it does the work it is supposed to do. I would say the same thing about this device I would. I can only say that I wish there were a lanyard or some carrying pouch for the dongle.
However, at the same time, the dongle will permanently be attached to most computers or laptops. So this erases the fear of losing the device because you will keep it with you. In conclusion, the Asus USB Adapter is the perfect USB dongle you need if you do not have Bluetooth connectivity.
Pros
Small, easy to carry.
It works with a simple plug-and-play concept.
Supports all devices
Cons
No carrying case included.
4. Onvian Bluetooth Adapter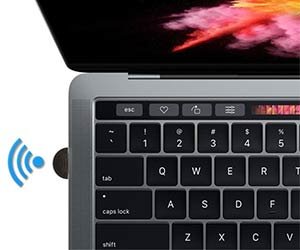 I am heading close to the end of the list, and the products I have reviewed are similar. I am not saying that it is a bad thing, but I have come to a point where it is nearly impossible to find something unique to a point where I can call it different.
I knew from the start that this would eventually happen when I started reviewing these products. The Bluetooth dongle in hand right now is the Indian Bluetooth adapter; it is a small, arch-shaped adapter that retails for rather cheap and manages to do all the good things you would expect from a USB Bluetooth dongle.
You need to understand that it is impossible to tell the USB dongles apart from each other because there is absolutely no highlighting factor. All of them work the same way, and I am going to say the same thing about the Onvian Bluetooth Adapter.
It is good and has no connection degradation whatsoever. If I were to recommend this, I definitely would. My only complaint is that the shape is a bit weird, and the device will not flush with the laptop or computer.
Pros
Supports the latest Bluetooth technology.
It works on every device.
Small and easy to carry.
Does not require any drivers.
Cons
The shape will prevent the adapter from sitting flush with the device you connect it to.
5. Techkey USB Bluetooth 4.0 Adapter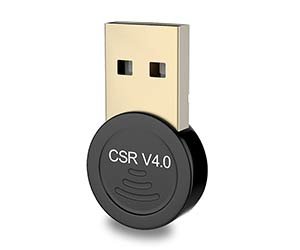 The last product on the list is the Techkey USB Bluetooth 4.0 Adapter, another small, super-compact USB Bluetooth dongle that will get things done how they are supposed to. Like every Bluetooth dongle I have reviewed so far, this one is also plug-and-play, meaning you will not need to worry about driver installations.
It uses the Bluetooth 4.0 standard alongside all the new tech that follows suit. Therefore, you don't have to worry about lagging as far as technology is concerned. I did not notice any issues with the connections, and everything worked just fine.
My only complaint with the Techkey adapter is that the shape is oddly round, meaning when you connect it to your laptop or desktop, the adapter will stick out. It is not a problem for people with desktops because they pretty much stay in place. However, it can be an issue for laptop users who want to keep it plugged in at all times. Unless you are okay with removing and plugging it in all the time.
Pros
Easy to use.
No drivers are required.
Latest Bluetooth technology
Cons
The shape is odd and will look weird if constantly connected to the laptop.
Conclusion
After testing five USB adapters, I can only say that the USB Bluetooth dongles work as intended. I don't think there are many differences between these devices. Like all the devices, they have Bluetooth 4.0 and somewhat similar shapes.
In this case, there is nothing to compare when you have so many devices with the same nature and type. Still, to save you all from the confusion that can bother even the best and smartest people, I have conjured up this list.
Here is to hoping that this list helps you buy the best USB Bluetooth dongle in the market. Normally, there is an editor's pick, but due to the similar nature of the devices, it's nearly impossible to draw one out.
Author's Opinion regarding the Bluetooth USB Dongle For PC
The Bluetooth USB Dongle For PC has powerfulatures while considering the security purpose. The priority is very high. No VPN or RDP is required for the said purpose. In some cases, the emulator also works fine, and middleware software also has an important role in smooth functioning. Therefore, the author recommended the Bluetooth USB Dongle For PC for your personal use and has no issue regarding the installation on PC (Windows and Mac). I hope you also use it without any trouble. If you have any issues, please mention them in the email, we will provide you with proper solutions. Please like and share with others. We made a lot of effort while collecting the software for your download.