USB Format For Mac And PC To share a USB drive between a Mac and a Windows PC, there are two disk formats to choose from exFAT and FAT32. The other formats — Microsoft's NTFS and Apple's Mac OS Extended — don't work well on the other operating system. There are a few subtle differences between exFAT and FAT32, but most of these are only issues if you use a drive on a server. For desktops using a USB drive, there are only two differences to be concerned about. FAT32 is the older version of FAT and can't handle file sizes larger than 4GB. ExFAT is not compatible with computers older than Windows Vista or Mac OS X 10.6.5.
Is NTFS Compatible with Mac?
The NTFS file system is another option for Windows formatted drives and volumes, but it has limited compatibility with Mac OS by default. Mac users can mount and read NTFS formatted Windows drives, making NTFS compatible with the Mac on the reading and mounting front, but writing to an NTFS drive requires using either third-party software or enabling NTFS write support on the Mac using an experimental functionality bundled on the Mac. This is less than ideal for most users, however, so while NTFS is compatible with a Mac and Windows PC, if you want to do heavy file sharing between the two with a lot of reading and writing, you may be better off formatting a drive as FAT32 as discussed above.
What about HFS Apple File System?
HFS is the Mac file system. If you only intend to use the drive on a Mac, it's' recommended to format for Mac OS X using the journaled file system. Just be aware that the Mac-only formats are typically not readable by Windows machines without some third-party software on the PC.
Formatting With Windows 8.1
Step 1
Insert the USB drive into an open port on your Windows computer and launch the Windows Disk Management Utility. To find it, type "disk management" or "format disk" in Windows Search and select "Create and Format Hard Disk Partitions."
Step 2
Select your USB drive in the Volume column. In most cases, this is the D: drive. If you have several dreams, you can also tell which is the USB drive by its size in the Capacity column or by launching File Explorer and looking at the name it uses in the left menu.
Step 3
Click the "Action" menu and select "All Tasks." Click "Format" in the drop-down menu to open the Format window.
Step 4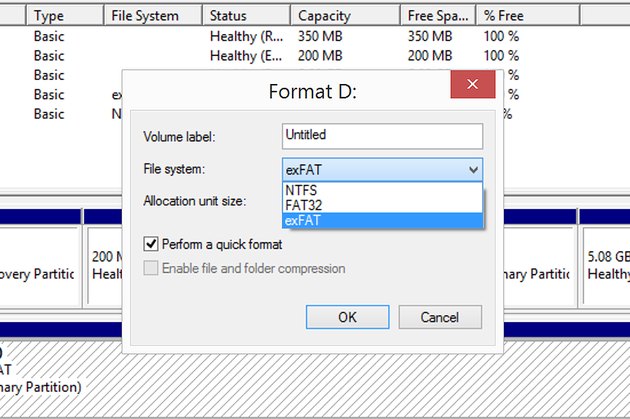 Click the "File System" menu and select "ExFAT." To use the USB drive on an old computer, select "FAT32."
Step 5
Enter a name in the Volume menu; words help to distinguish the drive if you have more than one. Clear the "Quick Format" check box if you have sensitive information on the industry that you don't want quickly recovered. Using the Quick Format option, anyone with a primary recovery program can pull erased data from a formatted drive. Even standard formatting is vulnerable to later data recovery unless you use a secure deletion utility. Click "OK."
Formatting"g w"the OS X Yosemite
Step 1
Insert the USB drive into an open port on your Mac computer. Launch Disk Utility, located in the Utility sub-folder inside the Applications folder. Alternatively, press "Space-Command" and type "disk utility" in Spotlight "t Search.
St"p 2
Select your USB drive in Disk Utility's left menu. You Utility'sify the drive by its manufacturer, and disk size in OS X. Click the "Erase" tab.
Step 3
Click the "Format" menu and select "exFAT." If you plan to use" the d"I've with an old computer, select "MS-DOS (FAT)" instead, wh"ch is Apple's" name for "FAT32."
Apple's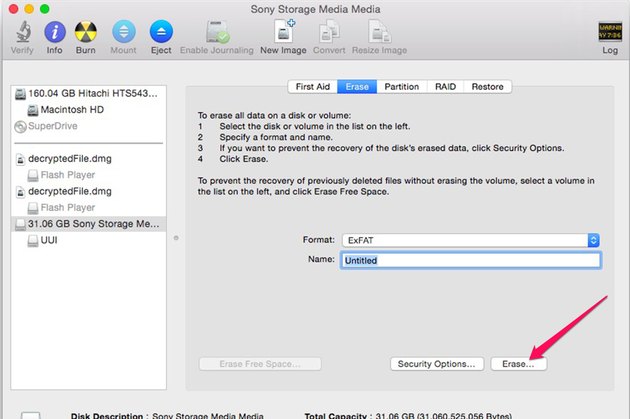 Click the "Security Options" button "f you don't want" to use a fast don't. Drag the security slider from "Fastest" to "Most Secure." As with" a W"ndows Quick "format, data deleted with a fast erase may be recoverable by someone with basic file recovery software. Enter a name to help you identify this USB drive from others, and click "Erase." Before removing "he dri"e, click the "Eject" button beside the"USB d" I've in Finder, or drag its icon from the desktop onto the "Eject" button in the Doc."
Author's" Opinion regardinAuthor'sB Format For Mac And PC
The USB Format For Mac And PC has compelling features while considering the security purpose; priority is very high. No VPN or RDP is required for the said purpose. In some cases, the emulator also works fine, and middleware software also has a vital role in smooth functioning. Therefore, the author recommended the USB Format For Mac And PC for your personal use and has no issue regarding the installation on PC (Windows and Mac). I hope you also use it without any trouble. If you have any problems, please mention them in the email, and we will provide you with proper solutions. Please like and share with others; we made a lot of effort while collecting the software for your download.