Radio App For PC Recently we talked about a cool radio software known as Radiola. Good enough, but those who tend to use Radio apps for Windows 10, from the Windows Store might feel left out, so we're going to talk about some of the online radio apps you can use right now from the Windows Store for Windows 10 PC & Windows 10 Mobile.
Radio apps for Windows 10
When it comes down to Radio apps, the Windows Store is overrun with them. But instead of talking about them all, we're going to focus on the four radio apps we believe to be the best of the bunch.
TuneIn Radio
This app is one of the most used on the Windows Store, and for good reason. It comes with a great looking design and thousands of stations to choose from. If you can think of it, you can probably find it on TuneIn Radio. As of right now, this radio app is our favorite, and it's also available on Windows 10 Mobile.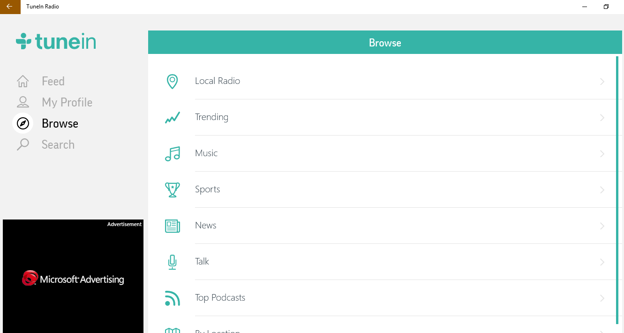 TuneInListen to the world's largest collection of radio stations on your Windows 10 device, absolutely free. TuneIn has all of the best sports, news, music and talk radio as well as top podcasts. Stream over 100,000 real radio stations, playing live from around the world
Download TuneIn Radio from the Windows Store.
iHeartRadio
Another solid radio app we have here. This one is similar in many ways to TuneIn Radio as they both have thousands of stations to choose from. However, iHeartRadio from our point of view, have the better design. The developers surely put a lot of work into how the user interface looks and how everything works overall.
App Radio
One of the newer radio apps from the Windows Store. Like the others we talked about, it's a free download, but unlike the others, it gives the option to get rid of the ads. To do this, users must take advantage of the in-app purchasing feature.
Now, outside of the paid stuff, this is still a free app and it works as expected. Download, install, search for your favorite radio station and play away. It worked great for us and we're certain it will work just the same for others.
Pandora
By now everyone should have heard of Pandora Radio. Great app that is available on many platforms. It's used by millions around the world and for good reason. You can search for a musician and only listen to songs from that musician. However, it's not possible to choose the songs, this is all automatic so you'll have to listen to songs you don't like.
That's not an issue for us, and we hope it's not an issue for you either because Pandora is a solid app. You can download Pandora from the Windows Store.