Kindle App For Windows 10: Unable To Connect Error Solved 
Kindle For PC Unable To Connect If you like reading eBooks, there is a fair chance that you own and read books on a Kindle. Amazon Kindle is one of the most popular eBook readers on the market, and the reading experience on such devices is phenomenal as you can read for long hours without straining your eyes.
You can also connect your Kindle to your Windows 10 device to store and transfer your books from your pc to your Kindle. Not all is perfect, as many users have reported on multiple forums that Kindle for PC won't open, or they can't sign into the Kindle app in Windows 10.
Here I will discuss the Kindle for PC problems and how to troubleshoot those using simple steps.

Why Is Kindle For PC Unable To Connect?
There can be many reasons why you may be facing this error. The users who had this problem reported multiple reasons why they were facing this error, and as a result, they required more than one solution to solve it. Here is a list of potential reasons for facing this error.
Malware is one of the most common reasons Kindle for PC won't open on your device. Many users have reported that hidden malware caused Kindle not to work correctly.
Many users reported that outdated Windows caused problems with their Kindle app.
With some updates, Windows changes the permissions required to run some apps. It may be possible that Kindle does not have the appropriate permissions required to run the app on your desktop.
Kindle for PC was removed from the Windows Store; many users missed critical updates. If you haven't updated your Kindle app in some time, this is the reason that you may be facing this error on your device.
The incorrect cache can cause login issues with multiple apps, including Kindle.
How To Solve Problems Associated With Kindle for Windows 10?
Now that you know why you may be facing the error, you can quickly resolve the error with Kindle for Windows 10 using the solutions provided below. You may want to follow them as a more straightforward fix may prevent the need to change system settings.
FIX 1: Check For App Updates
Since Kindle was removed from the Windows Store, many people did not know this and consequently missed many critical updates necessary to run the app properly. If you, too, have not updated your app in some time, that may cause login issues with your kindle app.
Visit the Amazon Kindle website and download the latest version of the app.
Following this, log in to your account, and you should see your problems solved.
FIX 2: Check For Windows Updates
If you are running outdated Windows, you are missing out on many important features and security updates necessary for the smooth running of your Windows operating system.
To overcome this, you may try updating your Windows 10 to the latest version and installing all the cumulative updates. This will ensure you have all the latest drivers and tools necessary to run the Kindle for Windows 10 smoothly.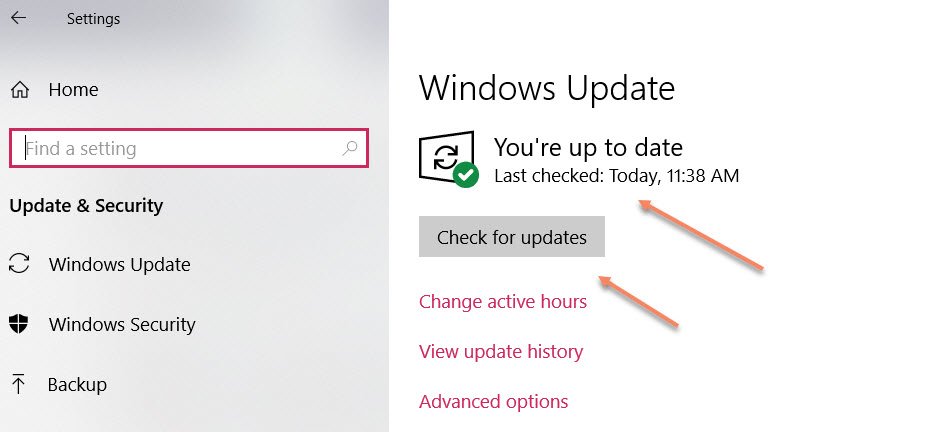 FIX 3: Run The Kindle For PC Diagnostic Tool
Kindle for PC has a built-in tool to identify problems with the Kindle for PC app. The tool identifies wireless connection issues, available storage space, and which Amazon account is registered to Kindle for PC.
From Kindle for PC, click Help.
Click Check for Problems to start the Diagnostic Tool.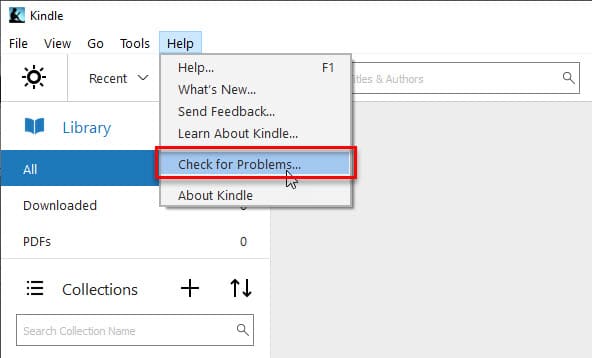 FIX 4: Clean Cache
Many apps and websites will store some data on your device. This is done to load these faster the next time you launch these apps. This data is called cache and is on your device nearly always.
However, the outdated cache is a huge problem and can cause all sorts of compatibility issues on your device.
You can search and delete these cache data manually, but it can be time-consuming. Instead, you can use third-party apps like CCleaner, which will help you quickly clear cache and other junk files.
FIX 5: Scan For Malware
Many users have reported that hidden malware causes issues on their devices. A virus or malware attack will cause problems with your device, and removing them should solve your Kindle errors.
You can either choose from freeware like Malwarebytes anti-malware programs, or invest in some premium apps that provide other security features.
FIX 6: Change Data Execution Prevention Permissions
Some updates change the permissions required to run an app properly. These can be changed with minimal changes, and you can follow these simple steps to solve your error.
Open This PC and click on System Properties.
Under the Advanced tab, locate the Performance
Here, click on Settings.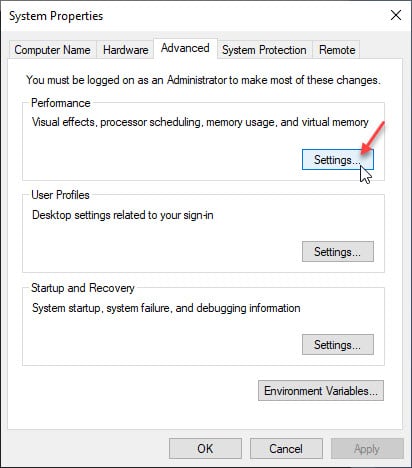 Click on Data Execution Prevention
Choose "Turn on DEP for all programs and services except those I select."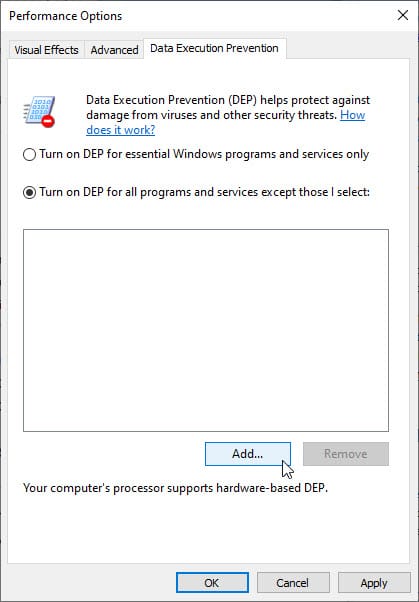 Click Add and browse to the installation folder of the troubled Kindle app and locate the .exe file.
Set an exception and confirm changes.
How to Connect Kindle to Windows PC and Mac
Like any PC and Mac, the Kindle is manufactured and designed to be easily used for various activities. Likewise, you may need to connect your Kindle to a Windows PC or Mac in many cases.
However, most times, you may not need to connect the Kindle to your computer. In the same way, there are times when you will need to connect your Kindle to a computer manually.
Reason for Difficulties in Connecting Your Kindle to PC
But before I highlight the connection process, I will show you why you might experience difficulties in making the connection even if you follow the correct procedure.
There are two types of micro USB cables that people use for connection, namely;
Regular(data) cables explore all four available wires and carry power and data.
And also, Charge-only cables, which use only two wires for the charging function, only.
Using the latter (charge-only cables) for any form of connectivity can prove to be difficult because they are only meant for providing power only, and they can malfunction if you try to use them for a connection between two gadgets such as Kindle and Windows.s PC
If you are experiencing difficulties in your connection, that could mean you are using one of these inferior and unsuitable charge-only cables.
Use any proper 4-wired micro USB cable, and follow a proper procedure and process for connection, and it will work perfectly. ctly
Procedure/Process of How to Connect Kindle to Windows PC and Mac
Below are the four easy steps and processes you need to follow to connect your Kindle to a Windows PC or Mac easily;
Step 1;
Firstly, you need to remove the plug from the end of your Kindle's power or USB cord. This will lead to exposing the USB .plug
Step 2
In addition, insert the USB cable into an empty port on your Mac/Windows PC, and the Kindle-recognized icon will immediately appear on the des. Stop.
Step 3
Double-click on the kindle icon to search and browse through your connected Kindle
Step 4
Drag the Kindle icon to the trash can that serves as an eject button. Then drag the button to disconnect Kindle from your windows PC and Mac.
If you find the above information beneficial, please drop your comment and question in the comment session.
Conclusion
Amazon Kindle is one of the most popular eBook readers among users. If you were having problems with the Kindle for Windows 10, now you know how to solve that using the solutions provided above. Do tell us in the comments which solutions solved the problems with your application.
Author's Opinion regarding the Kindle For PC Unable To Connect
The Kindle For PC Unable To Connect has compelling features while considering the security purpose; priority is very high. No VPN or RDP is required for the said purpose. In some cases, the emulator also works fine, and middleware software also has a vital role in smooth functioning. Therefore, the author recommended the Kindle For PC Unable To Connect for your personal use and has no issue regarding the installation on PC (Windows and Mac). I hope you also use it without any trouble; if you have any issues, please mention them in the email, and we will provide you with proper solutions. Please like and share with others; we made a lot of effort while collecting the software for your download.
Please follow and like us: